Places to drink in Sale – there's certainly no shortage of either bars or pubs on offer. But if you're looking for somewhere unique, you need to check out the selection of independent establishments in town. 
Cork of the North
13 Northenden Road, Sale M33 2DH
Looking for a glass (or bottle) of wine to become your new favourite? The team at Cork of the North Sale are on hand to help. A little bit fancy, but not at all stuffy, Cork of the North will serve you a glass or two of something nice, before persuading you to take a bottle home for later. It's an independent wine bar and wine shop combined. 
Owner Marc Hough and the team specialise in choosing a range of delicious wines from all over the world (we dream of work trips like theirs) for the bar and regularly host wine tastings matched with some mouth-watering side plates. If you're not sure what you like, they offer wine flights with your choice of three different wines. Feel free to hang around and suss out your favourite. 
If wine's not your thing, Cork of the North also has a selection of artisan bottled beers and spirits. 
Northenden Road has a great vibe in Sale at the moment, so next time you fancy a crisp white or a smoky red, head over to Cork of the North. 🍷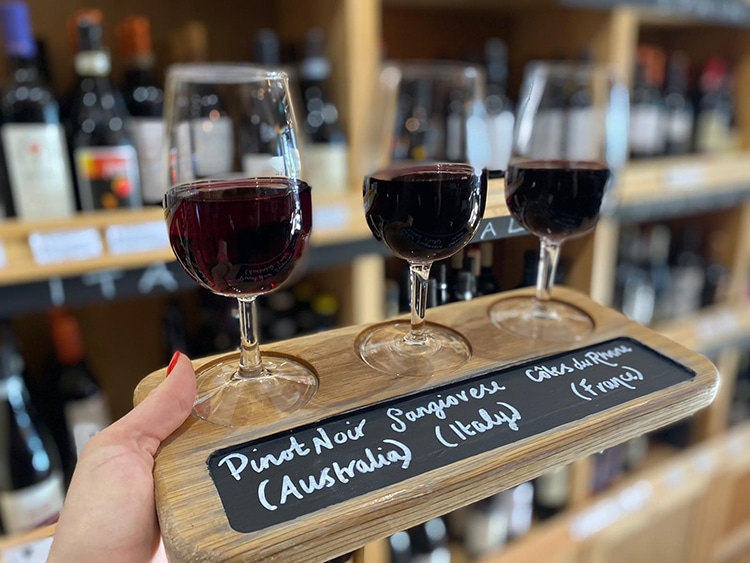 Draft Neighbourhood Craft Beer Bar
11 Stanley Square, Sale M33 7XZ
One of the smaller independent bars in Sale, as the town's regeneration in Stanley Square continues at a pace, finding a seat here at the weekend is getting harder and harder! But it's worth it – Draft has friendly staff, a great selection of drinks (especially for the craft ale fan) and always a stonkingly good playlist. 
Draft regularly changes the beers available and likes to support local breweries and makers where possible. Some of our favourites include Track Brewing Co. and Assembly Brew Co. 
Draft is a local bar with a real sense of community. If you want to support the independent bars in Sale, hot foot it to Draft for a pint or two. 🍻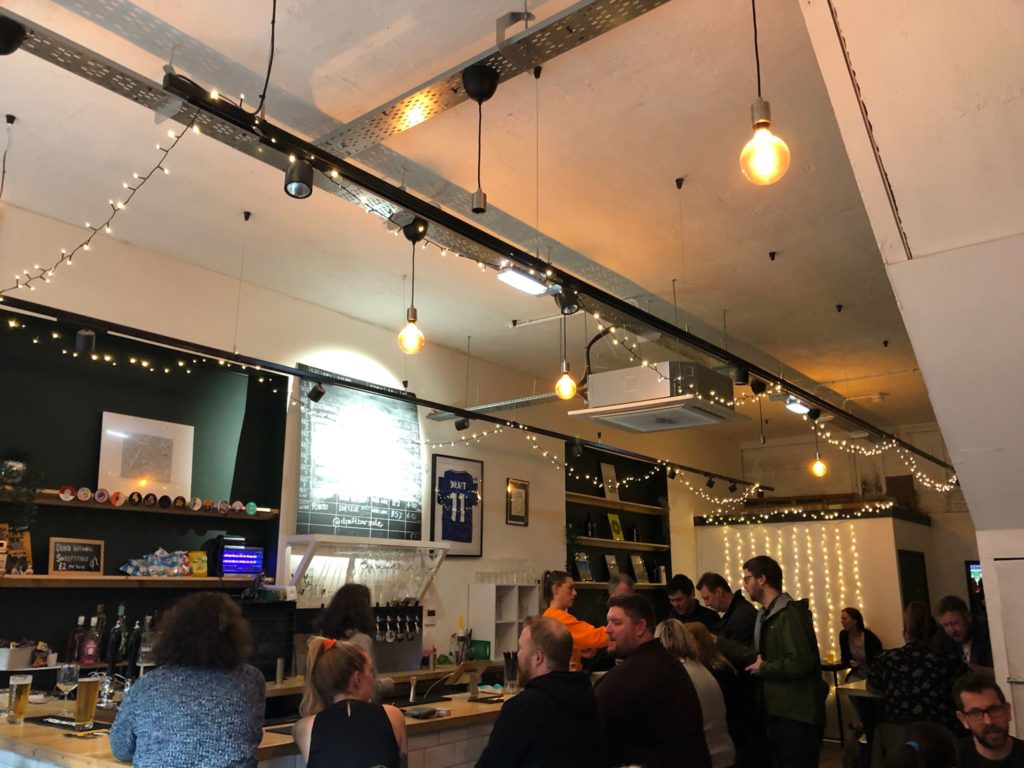 Dutch Courage 
19C School Road, Sale M33 7XX
In the mood for a cocktail? Whether you're planning a catch-up with friends or a date night with your better half, get Dutch Courage on your radar. Open Wednesday to Sunday, it's strictly an adults-only affair, so sort your babysitters out well in advance. 
A late-night cocktail bar, it really comes alive as the sun goes down. With fab decor, Dutch Courage is charming, intimate and, dare we say it, pretty trendy. The cocktail menu isn't full of the usual suspects (although you're very welcome to order those too); it's forward-thinking, a bit different and lots of fun. 
And although Dutch Courage specialises in cocktails, its drinks menu also caters for the wine and spirit fans among us. So you've no excuse to not give it a visit. 🍸
Hops & Boogie 
21 Stanley Square, Sale, M33 7XZ
Taproom? ✅
Bottle shop? ✅
Vinyl store? ✅
All under one roof at Hops & Boogie.
Gone are the days when the words 'real ale' meant warm, flat pints (although we know plenty of people who still like those). Hops & Boogie is an independent taproom for both true beer aficionados and those wondering what all the fuss is about. 
Perfectly placed in Sale's Stanley Square, serving a mix of domestic and international craft beer, Hops & Boogie is already well on its way to becoming one of Sale's best-loved watering holes.
So what are you waiting for? Hop to it!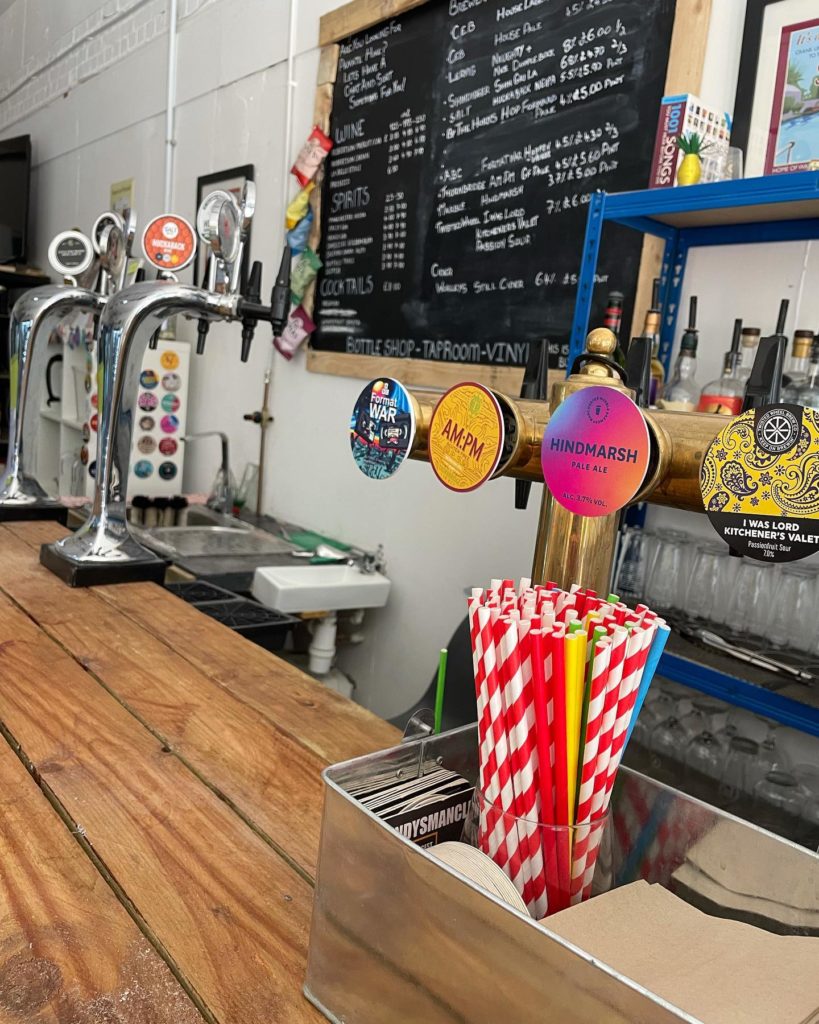 Num6er
11 Northenden Road, Sale M33 2DH
If it's a G&T you're after, Num6er has you covered. The popularity of gin has exploded over the last decade or so, with plenty of small, independent distilleries now making combinations that elevate a classic G&T to another level. 
Whether you're winding down after a busy week or looking for a raucous catch-up with old friends, this dedicated gin and whiskey bar on Northenden Road has a tipple to suit any occasion. 
Enjoy G&Ts made with some of the most popular blends such as raspberry or blackberry – but a word of warning: the menu is pretty extensive, so perhaps don't try them all in one night! 
The Steamhouse
1 Northenden Road, Sale M33 2DH
We told you that Sale's Northenden Road has become a nightlife hotspot. After a bit of a refurbishment last year, The Steamhouse now serves up a host of cocktails alongside its usual real ales and continental beers.
With regular open mic and live music nights, you're guaranteed a good night at The Steamhouse! 🍹
Like we said: loads of places to drink in Sale, especially if you're looking for those with more of an independent spirit. And if you can't make up your mind which bar in Sale to go to tonight, might we suggest a bar crawl? Enjoy! 
Which are your favourite bars in Sale? Let us know in the comments below 👇
Main image: Cocktails at Dutch Courage. Credit: Ailsa Bee Photography