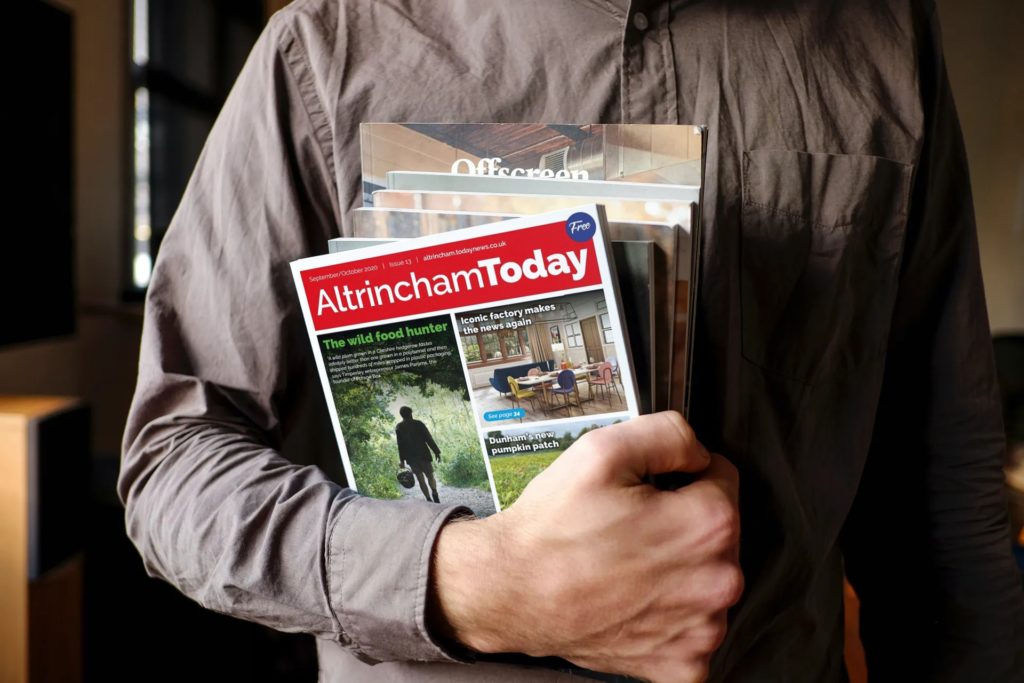 Issue 13 of the Altrincham Today magazine is out now.
After a six-month break in printing caused by Covid-19, we've relaunched our acclaimed print magazine.
And we've used the sabbatical to rethink everything about it, from the design and size to the distribution model.
"A complete local community magazine with a touch of class"

Regional Press Awards 2019
Issue 13 has been completely reimagined and revamped, with new sections, new contributors and a brand new design. It remains a fantastic read and this is an issue we're very proud of. 
Here are some of the highlights in this issue:
How one Altrincham business has pivoted to stay afloat through Covid-19
An interview with Altrincham Market's co-owner about coping with the pandemic
Interview with the owner of Altrincham's New York-inspired salad and juice bar
The man behind Altrincham's first dedicated radio station
The Parklife and Bluedot Festival organiser picks his favourite places in Altrincham
Five local dog walks that end in a pub
Artist Elizabeth Cochrane returns to her Hale roots
A day in the life of singer Russell Watson – and his Altrincham connection
We pay tribute to Altrincham's Superheroes of Lockdown
A first look at Altrincham's little corner of Morocco
How do you ensure a clean divorce, with Altrincham firm Hill & Company
The Timperley man selling wild food by subscription
The most expensive homes and valuable streets in Altrincham
Broadheath's iconic factory gets a facelift
Take a look inside Altrincham's most exclusive new address
Altrincham schools' performance rankings
We review Manchester's only luxury aparthotel
Richard Osman's The Thursday Murder Club reviewed – and what Altrincham's reading
Andrew Taylor test-drives the new Nissan Juke
TV and cocktails Box sets for the autumn – and we taste a Speakeasy Spice
Janet Harrison's three lockdown wine discoveries, plus our new puzzles section
Batch Deli and Bottlestore Food and drink that's fit for a King
Altrincham nutritionist Kate Robertss with some lunchbox inspiration
When disaster struck one Altrincham bar
The complete guide to eating and drinking in Altrincham
They always all go so don't hang around – pick yours up now.
For this edition, almost 10,000 copies have been distributed straight to homes across Altrincham, Timperley, Hale, Hale Barns and Bowdon. The rest will be spread across numerous coffee shops, retail outlets, salons and other establishments across Altrincham.
Can I buy a copy?
If you live out of the area or can't for any other reason get your hands on a free copy, we'll be happy to send you a copy through the post for £5, which includes postage and packaging.
Follow this link to buy your copy of the latest Altrincham Today magazine.