The founder of popular Sale-based fitness business These Mums Do has been selected as one of this year's Great Manchester Run 'icons', tasked with helping to promote the city event in May. 
Becca Broadbent is "absolutely thrilled and a little overwhelmed" after announcing that she has been picked as one of Let's Do This' 'Manchester Icons' ahead of the Great Run in Manchester next month. 
Following her exciting announcement, Becca said "I'm absolutely thrilled and a little overwhelmed if I'm honest. The Let's Do This team got in touch after so many people signed up and put my name down as their run club. 
"To be chosen means so much – I've worked so hard over the last five years to build a community, so for us to be noticed in this way is just everything."
The effect of lockdown
Becca, who originally set up These Mums Do after she was made redundant from her job whilst on maternity leave with her second child, was worried about the effect of lockdown on her business. 
"When lockdown was first announced I thought my business might be gone so I was devastated, but I picked myself up and flipped to online classes within a week and they were so popular.
"Virtual classes and virtual run clubs happened multiple times per week and were a lifeline for many – a bit of normality in the craziest of times."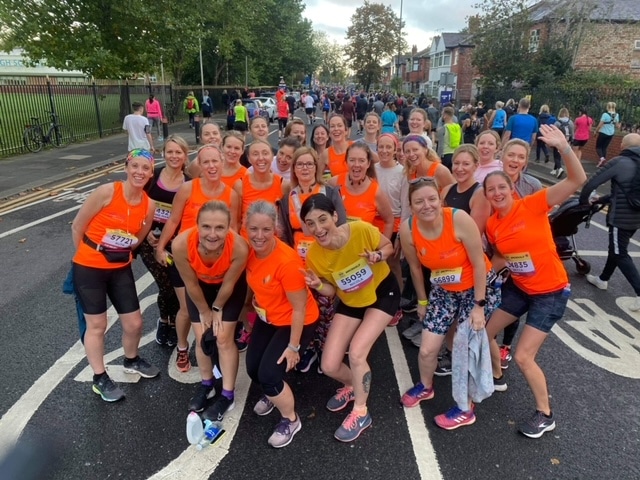 Since the lockdown has been lifted, These Mums Do has gone from strength to strength, with Becca saying that "business is great – everything's back to normal and in many ways, I'm busier than ever, which is absolutely amazing. I will be ever grateful for the people who supported me through that time and spurred me on to keep going." 
Since being announced as one of this year's Great Run Manchester Icons, Becca is more determined than ever to achieve her business goals over the next 12 months. 
"I want to get as many women active as possible! It's always been my main aim. I want to keep creating runners and giving the ladies that come the belief that they genuinely can do anything they put their mind to. They are strong in so many ways but it's important that they do something for them in a world surrounded by things for everyone else.
"I also want to help mums at any stage of their journey to help maintain positive mental health. We are all open with our stories and battles and I hope that the classes and clubs are an open and supportive lifeline to anyone who needs it." 
For those mums who are feeling unsure about starting – or restarting – their fitness journey, Becca has some advice: 
"Please don't be nervous – everyone's been where you are and we support and celebrate every success as a team. I can't tell you how many amazing friendships have been made over the last five years.
"There's something in my club for absolutely everyone at every level so just go for it – you'll never know how much you can achieve if you don't try. We don't take ourselves too seriously and aim to have as much fun as possible whilst getting fit, so get in touch!" 
Watch Becca's story:
These Mums Do holds running clubs and accessible fitness classes in local parks and venues across Sale, including Worthington Park and Sale Sports Club. 
The Great Manchester Run 2022, 10k and half marathon, takes place on 22nd May.
Interested in getting more active? Follow These Mums Do on Instagram and Facebook. 
Do you have a local news story that you'd love to shout about? Email us sale@todaynews.co.uk.